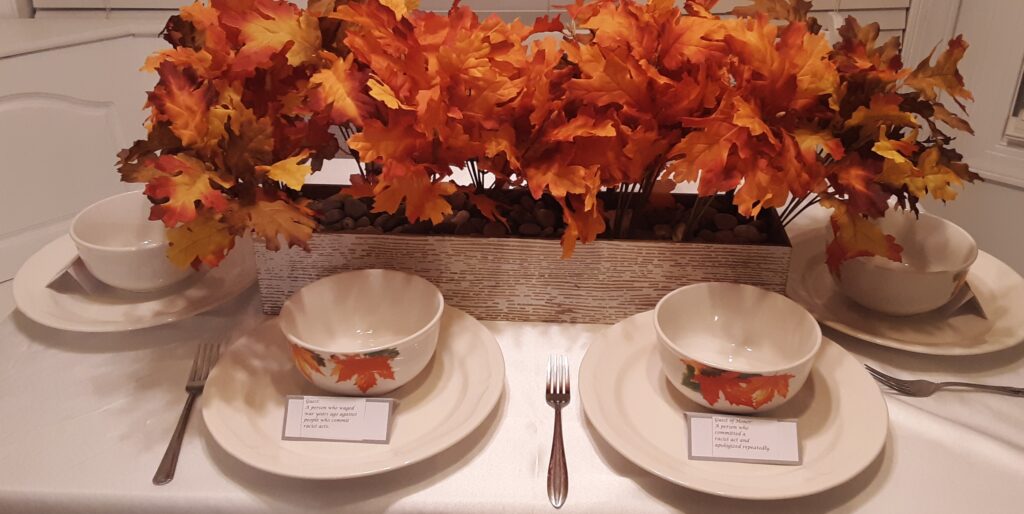 When God prepares a table for you in the presence of your enemies, it might not go exactly how you envisioned it. Well, at least that was my experience, so let me start from the beginning…
Years ago, I identified my enemies as people who commit racist acts, regardless of their race, and I waged a war against them in my heart by building an emotional wall between us. My hurt and pain was cemented together with anger, mistrust, and unforgiveness. I was hurt because I couldn't identify one place in my life where this act wasn't committed in some shape, form, or distasteful fashion, and I secretly wasn't willing to forgive because no one seemed apologetic or willing to change. However, I took comfort in Psalm 23:5 NIV for King David wrote: "[God] prepares a table before me in the presence of my enemies; [He] anoints my head with oil, and my cup overflows." For me, that meant I had nothing to fear because God was always there to protect me. He was also there to supply all my needs and then some. Then, I must admit that I loved to meditate on Psalm 110:1. Again, King David reminded me that God will make our enemies a footstool for our feet. Wait a minute, now! Did you hear what I said? God- the Great I Am- will make my enemies my foot stool. Well, needless to say, I was waiting for my footstool moment. I knew it was coming because if anybody knew a thing or two about enemies it was King David himself.
Well, imagine how I must have felt when I was placed at a "table" with my enemy during a "dinner party." Imagine how I must have felt when I realized that my "enemy" was the guest of honor. Imagine how I must have felt when I realized that the host and co-host was prepared to serve love, compassion, and forgiveness for the main course and offer a second chance for dessert.
Well, you don't have to imagine any longer. Let me tell you, to this day, I couldn't tell you very much about the conversation during "dinner" because I couldn't wait until the "guest of honor" went home for the evening, so I could share my concerns with the host and co-host before the final decisions were made. After all, that's why God allowed me to be at the table, right? He wanted me to have an opportunity to get my sweet revenge! Oh, I planned to take full advantage of this opportunity, and don't forget about the footstool scripture. King David said, "God would make our enemies our footstool," and there I was: in a position to influence a decision about the guest of honor. Thank you, Jesus! This is it, I thought. This is my chance to seek revenge for all the times people have committed racist acts in our nation and gotten away with nothing more than a slap on the wrist. Well, not this time because I am at the "table," now and I will not be moved by an apology. "They" always apologize when their backs are against the wall, but their actions always speak to the contrary.
Well, when the moment came for me to share my concerns with the host and co-host, I did not waste a moment. First, I laid it all on the line and I reminded them about the "guest of honors" transgressions and I took pleasure in reminding them that this individual wore a veil over their face during the entire dinner. (It was not for cultural or religious reasons; the individual was clearly ashamed of their actions and that proved to me that they had no right to have a seat at the table.) Next, I listened to the host's reasons for extending an olive branch. Oddly enough, the host was convinced that it was God who placed the host in a position to be a blessing to an "identified enemy" of mine. Then, I knew I had to kick it into high gear, so I said that it was a likely hood that the person could do it again and it could be a media nightmare if we welcome this individual into our circle. I also pointed out that no one else wanted this individual, so why should we? Finally, I used the oh, so familiar line, "Let me pray about it, and I will give you my answer tomorrow."
While neither the host nor co-host needed my opinion or confirmation from the Lord, they were satisfied with my decision to pray and they were willing to allow me to share the Lord's response with them. In fact, the co-host said something that wrecked me to my core. The co-host said, "I trust you and I respect your opinion." So not only did He place me at the table, my voice would actually be heard.
Well, I called a dear friend of mine, and I shared my concerns with her. Then, she said, "Pray about it." Why? I thought. I already know the answer. Oh, well, I will indulge them. I will pray about it. I honestly cannot recall the prayer, but trust me when I say it was a half-hearted prayer because I knew God didn't want me to have anything to do with a person who committed a racist act. This was my footstool moment!
Well, the Lord woke me up at 6:00 A.M. and He began to download these thoughts. "Nicole, you were on a road to hell, but Jesus gave his life for you. Now let's talk about shame. Do you remember the Samaritan woman at the well? (John 4, pick a version, any version will due). In summary, she was living in "sin." She had five husbands and was living with a man who was not her husband. She was so ashamed of the life she was living that she went to the well during the hottest part of the day because she didn't want to encounter anyone, but one day she encountered Jesus. During that encounter, he did not withhold forgiveness and love from her. He gave her hope when he said, "Yet a time is coming and has now come when the true worshipers will worship the Father in the Spirit and in truth, for they are the kind of worshipers the Father seeks." Now my brothers and sisters, who are bible scholars, I know you can explain this a whole lot better than I can, but let me tell you this… the fact that he was talking to her about the kind of worshiper the Father seeks, let me know he wasn't excluding her, like I was excluding my enemy because of a past transgression. Ouch!
Wow! You mean, when God prepares a table for me in the presence of my enemy that means more than He will protect me. You mean, by the time God prepares a table for me, I will be able to show the love of Christ within me by showing compassion and offering unsolicited forgiveness to my enemy in the midst of God's protection. Wow! I did not see that coming, any more than I saw the footstool scripture. Now that really threw me for a loop. Remember when I meditated on King David's words about the Lord making your enemies your footstool? Well, I should have read the whole chapter, or at least the whole scripture. Psalm 110: 1 NIV states: "The LORD says to my Lord: Sit at my right hand until I make your enemies a footstool for your feet; The LORD will extend your mighty scepter from Zion; you will rule in the midst of your enemies." Oh, bible scholars, through my teachings and revelations, I realized that David's words– as comforting as they were to me- were even more comforting when I realized that he was prophesying that Jesus would one day sit at the right hand of God the Father, and God the Father would subdue our enemies on our behalf. All we need to do is trust in Him and Him alone.
In closing, God prepared a table for me in the presence of my enemies because He wanted me to realize who lived on the inside of me. Jesus is love and because He lives on the inside of me, I had no other choice but to forgive and welcome my "enemy" into the circle. Look at God! Yes, I give Him all the glory because I couldn't have done that within myself.