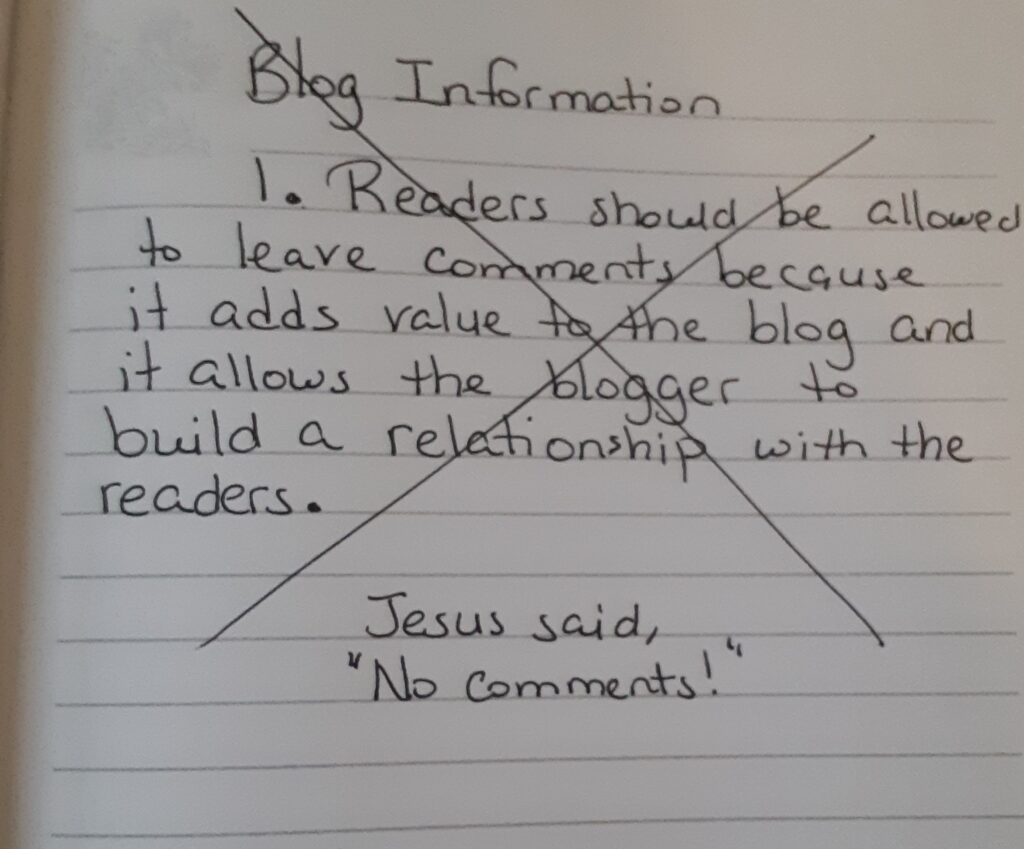 When God whispered in my spirit to write and publish my blogs every Tuesday at 5:00P.M., He also whispered in my spirit to disable comments. Of course, I didn't understand why he would ask me to do something like that because I recently read an article that said, "Comments add value to blogs because it allows the blogger to build a relationship with the readers." Now if He wants me to share His heart toward racial justice and unity with the people who read my blog, He should want me to do everything I can to add value to the blog, right? Wrong! It's not up to me to add value to God's word. (Shame on me for thinking that I could). Hello-o-o—o! He's God! He doesn't need me. He chose me, and through this process He will make a way for every person who reads the blog. (That's you, by the way).
Jesus stated in Matthew 11:28 (NLT) "Come to me, all of you who are weary and carry heavy burdens, and I will give you rest," so as He releases me each week to publish my blogs about this journey toward racial unity in our world, He does not want you to leave me a comment below. He wants you to pray, so He can give you the kind of rest you need. Think about it! When we comment on social media about racial injustices in America, we feel the weight of the world on our shoulders and it is often compacted with rejection and hate. So! We comment to be heard because we refuse to be cast aside any longer! We comment to change hearts and minds because ultimately, we all want to be loved and accepted, whether we admit it or not. We comment because our souls cry out for justice. We comment to defend ourselves or defend an entire race of people. That release in the comment section should bring peace to the rising storm within us, but oftentimes it causes a war to start within ourselves and on social media. Then, the victim of racism begins to act and sound like a racist themselves because he or she is so caught up in the "comments" that they forget that the Prince of Peace lives within them and they allow the enemy (you know who he is… Satan himself) to rule over their emotions. Then, we wonder why our words fall on deaf ears. (Well, I've often wondered that myself). Then, I read Ephesians 4:26 (TPT). It states: "But don't let the passion of your emotions lead you to sin! Don't let anger control you or be fuel for revenge, not for even a day. Don't give the slanderous accuser, the Devil, an opportunity to manipulate you!" Then, if you read a little further Ephesians 4:29 states: "Never let ugly or hateful words come from your mouth, but instead let your words become beautiful gifts that encourage others; do this by speaking words of grace to help them."
Grace?! Help them?!?! Come on Lord! What are you saying? Are you saying that we should be speaking words of grace over the women and men in blue, who abuse their authority by physically, mentally, emotionally, and spiritually harming their brown and black brothers and sisters in the name of justice, so their hearts can be opened and their souls can be saved from an eternity in hell? Are you saying that we should not only march in the streets, but pray for God's mercy to reign over all mankind while we protest racial injustices? (Protests can come in many different forms by the way, but that's a different topic for a different day).
Dear sweet Heavenly Father, when I accepted this call to share your heart about racial justice and unity, I did not realize that this was a part of it. I am not sure if I am the best person for you to choose because I have not always treated them as if they deserved your forgiveness, let alone mine. (When I say "them," I am referring to racist.) For example, when I heard about a racist restaurant owner in my local community, I assisted in exposing him on social media during the summer of 2020. I shared his post, and begged my friends and family not to eat at his establishment. Then, I cheered when his restaurant was closed and I was elated when everyone started to go to an African American owned restaurant. For me that was justice in the truest form; however, the Holy Spirit convicted me and directed me to various scriptures such Romans 3:23, which state: "For everyone has sinned; we all fall short of God's glorious standard." Wow! Did you read that part? Did you meditate on it? I mean, really meditate on it! We all fall short because we are sinners saved by what? Grace!
On this road to racial unity, I must speak grace over people like the restaurant owner, and the men and women in blue who use their position of authority to harm their black and brown brothers and sisters in Christ. I must pray for the victims of racism, so their hearts will not be hardened, so they can continue to show love toward all humanity and step into a season of forgiveness. This journey for me will not be easy. I foresee many uncomfortable conversations and even some sleepless nights because this isn't what I expected. I was prepared to give the victims words of encouragement; I never thought in a million years that I would be called to pray for the ones accused of the most heinous crimes. (Of course, I'm learning that we are all called to do that.) With that being said, His desire for the blog is below and I must submit to His will.
I have to post the blogs on Tuesdays at 5:00P.M. (God gave me that day and time. I don't know why. I am only being obedient because my life belongs to Him.) Today I had to post it on Pacific time due to a scheduling conflict, i.e. a Zoom ballet dance class for my girls. (Don't laugh. I'm being honest.)
John 14:23 (NIV) Anyone who loves me will obey my teaching. My father will love them, and we will come to them and make our home with them.
2. The readers should reflect upon the words God releases me to publish about racial unity and ask Him how it applies to their lives. (During this season of my life, I am in a continuous state of reflection). Maybe some of you are too.
Psalm 139:23-24 (NIV) Search me, God, and know my heart; test me and know my anxious thoughts. See if there is any offensive way in me, and lead me in the way everlasting.
3. Pray for a Kingdom Revelation. God recently whispered these words in my spirit: "If you pray for a kingdom revelation, he will make the blind see." Okay, you may be wondering what a kingdom revelation is, regarding racial unity in our world. First and foremost, we must understand that there isn't a black side or a white side. There's the Father's side and His alone, and he can do all things but fail. While justice is at hand, we cannot be swayed by news reporters, social media post, blogs (lol, I know I see the irony), or even personal experiences. We have to keep our eyes on Jesus. For example, as he was being crucified on the cross, he spoke these words: "Father, forgive them, for they do not know what they are doing." [Luke 23:34] Wow! That's why you can't send comments to me! Nicole would get that wrong. Nicole wants every racist to be exposed and publicly shamed, but Jesus understands that lives can be changed and generational curses can be broken through prayer.
Romans 12:1-2 Therefore, I urge you, brothers and sisters, in view of God's mercy, to offer your bodies as a living sacrifice, holy and pleasing to God—this is your true and proper worship. 2 Do not conform to the pattern of this world, but be transformed by the renewing of your mind. Then you will be able to test and approve what God's will is—his good, pleasing and perfect will.
4. Email me privately for a prayer request or to share a testimony. What a blessing it would be for us to partner together in prayer and be able to share how God opened our hearts and allowed us to show love and compassion toward our brothers and sisters of different races. What a blessing it would be to share how he released the power of forgiveness within us, and how it changed our homes and communities in a beautiful way.