By: Nicole C Schroeder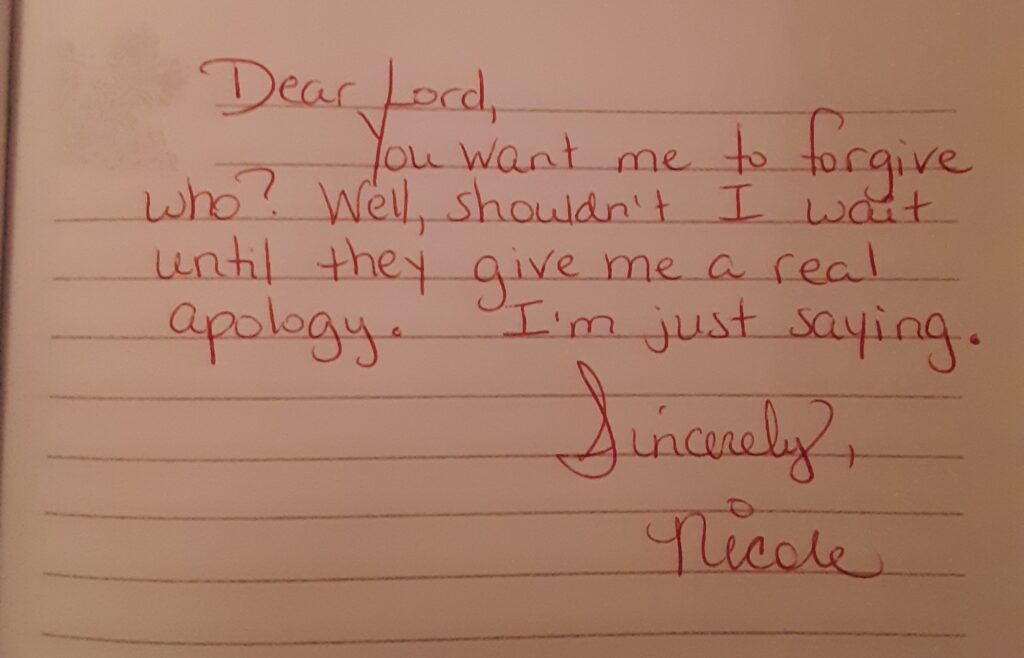 I recently read an article about a district that apologized to the African American students in their community for years of racial discrimination, but a prominent leader in that community questioned the sincerity of the apology.
As I reflected on the article, God downloaded this thought into my spirit: Our response to an apology or an offense for that matter could change the course of history. Wow! The Father's willingness to speak to my innermost being will forever amaze me because I can't tell you how many times I've questioned an apology. In fact, I can recall saying things like, "She didn't mean it." "Did you hear how she said that?" "She didn't even sound like she was sorry." I know! Judgmental, right? It's okay. You can say it because it's true. Not only does God want us to apologize, he wants us to forgive. Matthew 18:21-TPT reminds us of a conversation Peter had with Jesus. He asked, "How many times do I have to forgive my fellow believer who keeps offending me? Seven times?" Jesus answered, "Not seven times, Peter, but seventy times seven times! In other words, do not put a limit on forgiveness. In fact, when Jesus was being crucified, he prayed, "Forgive them for they do not know what they do."
Well, while we all desire to be like Jesus, He led me to write a mini blog series, using people in the bible who exemplified forgiveness and humility. The first person who I will discuss is Stephen. (Please keep in mind that I am just giving you the cliff notes version today, so you may read about him it in its entirety, starting at Acts 6:8 and you can choose any version you like.)
Now Stephen was a man filled with faith and the Holy Spirit, so God called him to spread the good news about Jesus. He performed signs and wonders in His name. When the men from the Synagogue of Freedmen or Freed Slaves (depending on the version you read) witnessed this, they argued with him, but they could not hold a candle to the Holy Spirit that lived on the inside of Stephen. For this reason, they became upset and plotted against Stephen. One false witness after another came forward. In Acts 6:13, a man said, "This man is always speaking against the holy Temple and against the laws of Moses." Of course, the enemy specializes in pushing our buttons, so inevitably, this would upset the elders and the teachers of religious law. They arrested him, but he did not waver. He delivered the message that the Holy Spirit placed on the inside of him. Again, the men became enraged. They dragged him out in the streets and stoned him. Then, when Stephen fell to his knees, prepared to take his last breath, he said, "Lord, don't charge them with this sin." Hello-o-o! They were stoning him to death, and he spoke on their behalf because he knew greater was coming for them if only they would open their hearts and believe in the One who truly saves us.
Now imagine what would happen if someone who experienced racial discrimination in public would pray on the discriminators behalf. Imagine what would happen if someone caught this image on their cell phone and posted it on social media. Imagine the impact it would have on our present and future brothers and sisters in Christ. Now in no way am I asking you to make a mockery of prayer. Continue to use your prayer closets as you see fit, but someone must be a living example of Matthew 5:44. "Someone has to love [their] enemies and pray for those who persecute [them]."
Where are the Stephens in the world? It's time for them to rise us! The enemy cannot have the last word! 2 Chronicles 7:14 (KJV) states, "If my people, which are called by my name, shall humble themselves, and pray, and seek my face, and turn from their wicked ways; then will I hear from heaven, and will forgive their sin, and will heal their land." Praying for your persecutor is a humbling experience. Praying for the strength to forgive a half hearted prayer is a humbling experience. Praying for the strength to forgive folks who have no intentions of apologizing at all is humbling as well, but it's time because we need our Father to heal the land.
Just think about it. Then, pray to the Lord about it.
#soul searching with our Father#