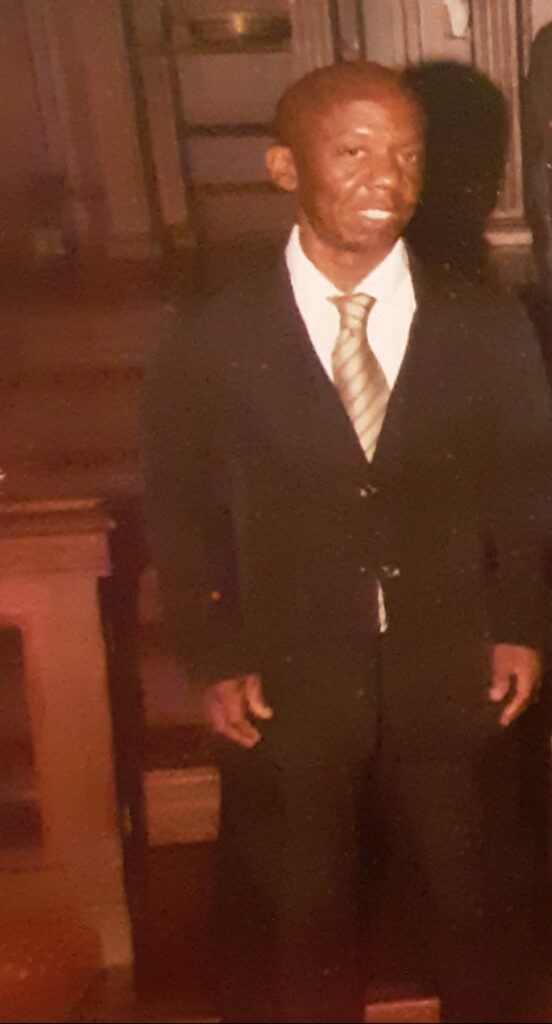 Growing up, I heard my dad, Thomas Crutcher, aka Tacky Man sing a song titled, "One of These Old Mornings," by the New Christianaires. I can hear him sing these words, "One of these old mornings, it won't be very long, you're going to look for me and I'll be gone. Going up to heaven to sing and shout, and there won't be nobody there that can put me out." Well, on September 20, 2008, just five days after my twenty-eighth birthday, my father went home to be with the Lord. What an honor it is for me to write about him, as we publish my 100th blog post!
Celebrating our 100th Blog Post!!!!
… God is good and worthy to be praised!
I titled this post, Thomas Crutcher: A True Worshiper. For most of my childhood, he played the piano for the youth and he sang in the adult choir. Growing up, I heard individuals in the church say, "Tacky needs to turn that keyboard down. It's too loud. This is a small church. It don't take all that." One person even said, "Tacky sings too loud. You can't hear anyone else in the choir." One time, I asked him to turn the keyboard down because I didn't want anyone to say anything about him, but he didn't care what people said about him. He was on a mission to serve the Lord. He was not playing the piano for anyone in the church. He wasn't singing to impress anyone in the church. He was worshiping the one who woke him up that morning, the one who started him on his way, the one who kept him in his right mind, the one who blessed him when people around him tried to curse him. You see, when God has been good to you, you can't turn down your praise to please man. If I could have one moment with him, I would tell him it took me a while, but I understand why he praised God how he did. Our God is a good and faithful Father. While men and women will use every opportunity to tear us down, even in the house of the Lord, God will always be there to pick us up! Yes! I am a witness that he is worthy of our praise!
Now some people might say, "Nicole shouldn't have said that. Tacky is dead and gone. Why would she want to say all of that?" Trust me. I didn't want to say that because it brings back old memories that are best left in the past, but someone needs to learn from my father's example. Someone needs to know that their praise belongs to God. Don't let anyone keep you from praising God, and don't keep anyone from praising God.
Saul's daughter, Michal, tried to scold David after he danced before the Lord. Do you remember that? When she saw him, she actually despised him in her heart. I think we should reflect on that for a moment because there are people who literally despise others for praising God, and they feel like it is their God given right to share their opinion on the matter. "You shouldn't raise your hand. You shouldn't stand up. You shouldn't run around this church. Do you know how you look?"
Michal did that! Read 2 Samuel 6 ESV. I won't read the whole thing, but I will read 2 Samuel 6: 20-22 ESV.
It states, "When David returned home to bless his household, Michal daughter of Saul came out to meet him and said, "How the king of Israel has distinguished himself today, going around half-naked in full view of the slave girls of his servants as any vulgar fellow would!"
David said to Michal, "It was before the Lord, who chose me rather than your father or anyone from his house when he appointed me ruler over the Lord's people Israel—I will celebrate before the Lord. 22 I will become even more undignified than this, and I will be humiliated in my own eyes. But by these slave girls you spoke of, I will be held in honor."
In other words, if you thought that was something, you have not seen anything yet. I'm going to praise God because I know where my help comes from. My help comes from the Lord. I stopped worrying about what people thought about me when I realized who my God was. My God opens doors that no man can close and he closes doors no man can open. I will not lose one thing because I praise him. I was created to praise Him.
The last verse reads, "And Michal, daughter of Saul, had no children to the day of her death." Now I will not go there; however, I think that is a great opportunity for us to think about what we're doing before we speak about someone else's praise. Then, we should go to the Father and pray about it. Soul Searching with Our Father while remembering my Earthly father today!
I love you dad, and one day we will worship together again!